press
above to begin the lecture
and install current free versions of Quicktime, if needed, to support lecture series audio!
return to Pharmacology Table of Contents
Table of Contents

ANS Anatomy

Autonomic and Somatic Innervation
Autonomic Reflex Arc
Autonomic Reflex Arc: First Link
Sensory Fiber Neurotransmitter(s)
Autonomic Nervous System Neurotransmitters: Summary
CNS and the Autonomic Nervous System

Spinal Cord Reflexes
Hypothalamus and Nucleus tractus solitarii
Higher Centers

Peripheral ANS Divisions

Comparison between Sympathetic & Parasympathetic Systems
Sympathetic Nervous System Anatomy

Diagram Sympathetic System
Anatomical Outline

Paravertebral Ganglia
Prevertebral Ganglia
Terminal Ganglia
Adrenal Medulla

Parasympathetic System Anatomy
ANS Neurotransmitter Effector Organs

Eye
Heart
Arterioles
Systemic Veins
Lung

Skin
Adrenal Medulla
Skeletal Muscle
Liver
Posterior Pituitary

Interactions between Sympathetic & Parasympathetic Systems
"Fight or Flight": Characteristics of the ANS

ANS Neurotransmission

Neurotransmitter Criteria
Neurotransmission Steps:

Axonal Conduction
Storage and Release of Neurotransmitter
Combination of Neurotransmitter and Post-Junctional Receptors
Termination of Neurotransmitter Action
Other Non-electrogenic Functions

Cholinergic Neurotransmission

Transmitter Synthesis and Degradation
Acetylcholinesterase
Acetylcholine: Storage and Release
Site Differences:

Skeletal Muscle
Autonomic Effectors
Autonomic Ganglia
Blood vessels

Signal Transduction: Receptors

Adrenergic Transmitters: Biosynthetic Pathways
Adrenergic Neurotransmission: Introduction to the Neurotransmitters
Catecholamine Synthesis, Storage, Release and Reuptake

Enzymes
Catecholamine storage
Regulation of adrenal medullary catecholamine levels
Reuptake
Metabolic Transformation
Indirect-acting sympathomimetics
Release

Adrenergic Receptor Subtypes

ß-adrenergic receptors
Alpha-adrenergic receptors
Catecholamine Refractoriness

Other Autonomic Neurotransmitters

Co-transmission

ATP
VIP
Neuropeptide Y family

Purines
Nitric Oxide (Modulator)

Predominant Sympathetic/Parasympathetic Tone
Baroreceptor Reflexes
Pharmacological Modification of Autonomic Function
Autonomic Dysfunction
Autonomic Nervous System: Anatomical Considerations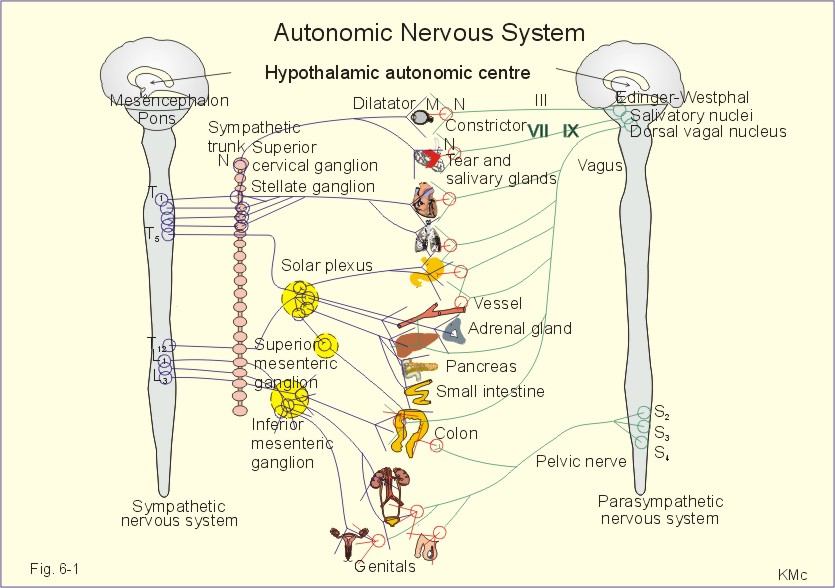 Figure by Poul-Erik Paulev, M.D., D.Sci, Department of Medical Physiology
University of Copenhagen, used with permission
Autonomic and Somatic Innervation
Skeletal muscle is innervated by somatic nerves, controlling voluntary actions
All other innervated structures are supplied by the autonomic or involuntary system.
Somatic system: No ganglia present
Autonomic nervous system (ANS) has ganglia.

these ganglia are sites at which preganglionic fibers form synaptic connections with postganglionic neurons
these ganglia are located outside the cerebrospinal axis
Other differences between Somatic and Autonomic Innervation
Motor nerves to skeletal muscle: myelinated
Postganglionic autonomic nerves are nonmyelinated
Denervation of skeletal muscle results in paralysis and atrophy
Denervated smooth muscle or glands retain some activity
Autonomic Reflex Arc
First link: Visceral autonomic afferents to the CNS

Non-myelinated, carried to the cerebrospinal axis by autonomic nerves (e.g.vagus and splanchnic)
Some autonomic afferents from skeletal muscle blood vessels and integumental structures may be carried in somatic nerves
Cell bodies of visceral afferents: (a) spinal nerves--in dorsal root ganglia; (b) cranial nerves-- in sensory ganglia
What information gets transmitted?
Mediated Information:

visceral sensation (pain;referred pain)
vasomotor reflexes
respiratory reflexes
viscerosomatic reflexes: Definition: Viscerosomatic: Pertaining to the viscera and body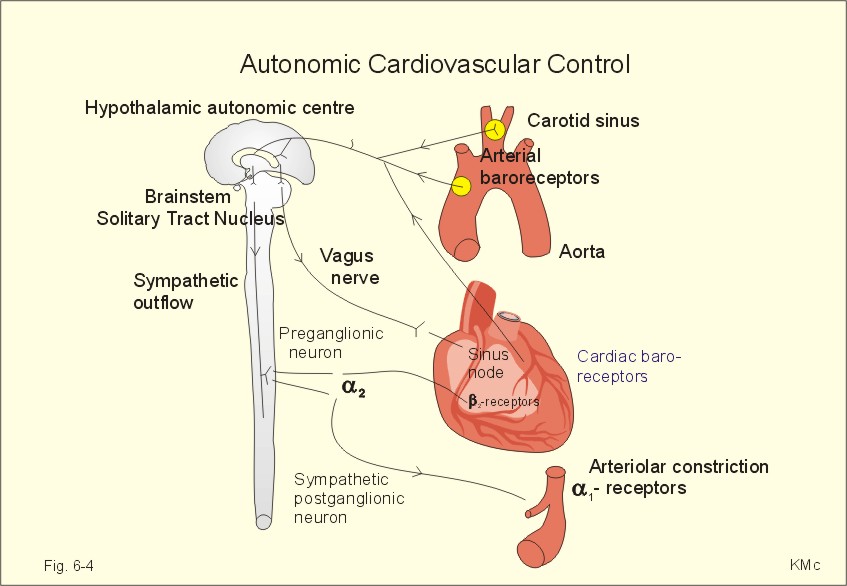 Figure by Poul-Erik Paulev, M.D., D.Sci Department of Medical Physiology
University of Copenhagen, used with permission
Substance P is an important sensory neurotransmitter, probably especially important in nociception, and is found in:

| | | |
| --- | --- | --- |
| sensory afferent fibers | dorsal root ganglia | dorsal spinal cord horn |
Other agents found in sensory neurons

somatostatin
vasoactive intestinal peptide (VIP)
cholecystokinin (CCK)
Calcitonin gene-related peptide (CGRP) (found with Substance P in cardiovascular sensory nerve fibers)
Dorsal Spinal Cord (substantia gelatinosa) Interneurons
Enkephalins: Antinociceptive due to inhibition of substance P release and reduced transmission to higher centers
CNS and the Autonomic Nervous System
Spinal Cord Reflexes

| | | | |
| --- | --- | --- | --- |
| sweating | blood pressure changes | temperature-induced changes in vasomotor tone | emptying of the bowels, bladder, seminal vesicles |
Hypothalamic and Nucleus tractus solitarii
Integration of ANS Functions

| | | | |
| --- | --- | --- | --- |
| body temperature regulation | water balance | fat/carbohydrate metabolism | blood pressure |
| | | | |
| --- | --- | --- | --- |
| emotions | sexual response | sleep | respiration |
Higher Centers
Posterior and Lateral Hypothalamic Nuclei are assocaited with integration of autonomic sympathetic input

Midline nuclei in the region of the Tuber cinereum and anterior nuclei Nuclei are assocaited with integration of autonomic parasympathetic input
Comparisons between Sympathetic and Parasympathetic Nerves
| | |
| --- | --- |
| Sympathetic system has a broader distribution, innervating effectors throughout the body | Parasympathetic system is relatively limited |
Sympathetic fibers show greater ramification.

Sympathetic preganglionic fibers may traverse through many ganglia before terminiating at its post-ganglionic cell.

Synaptic terminal arborization results in a single preganglionic fiber terminating on many post-ganglionic cells.

This anatomical characteristic is the basis for the diffuse nature of sympathic response in the human and other species.

The parasympathetic system has its terminal ganglia near the end-organ.

Sometimes there is but a one-to-one ratio relationship between pre-and post-ganglionic fibers. The ratio between preganglionic vagal fibers and ganglion cells may be much higher, e.g. 1:8000 for Auerbach's plexus.
Lefkowitz, R.J, Hoffman, B.B and Taylor, P. Neurotrasmission: The Autonomic and Somatic Motor Nervous Systems, In, Goodman and Gillman's The Pharmacologial Basis of Therapeutics,(Hardman, J.G, Limbird, L.E, Molinoff, P.B., Ruddon, R.W, and Gilman, A.G.,eds) TheMcGraw-Hill Companies, Inc.,1996, pp.107
press the purple arrow below (right) to go to the next page