Medical Pharmacology Chapter 49: Overview of Chronic Obstructive Pulmonary Diseases
18Bullous emphysema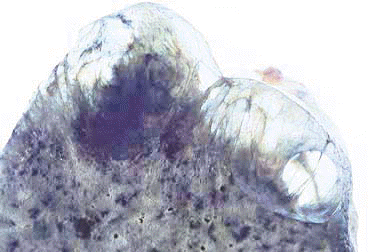 18Centriacinar emphysema/distal acinar emphysema
18Centriacinar emphysema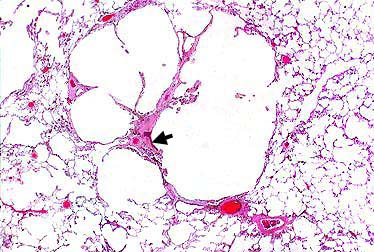 18"This section of centriacinar emphysema shows the enlarged air spaces around a small airway.

Respiratory epithelium remains at the arrow. The more peripheral alveoli are normal."
19Normal Chest X-Ray & X-Ray from Emphysema Patient

| | |
| --- | --- |
| | |
19Normal lung chest X-ray (left) compared to chest X-ray from a patient with emphysema:

"The findings of hyperinflated lungs, flattened diaphragms, diminshed vascular markings suggest emphysema.

Emphysema destroys alveoli and results in obstruction of small airways leading to air trapping - increased lung volumes.

On lateral film there may be increased retrosternal space.

However, thin individuals with good inspiratory effort may have flattened diaphragms and hyperinflated lungs that could mimic emphysema on cxr."
20Classic Emphysema on CXR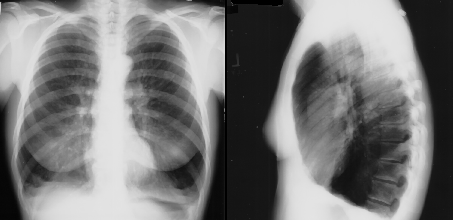 1In emphysema, spirometry reveals a characteristic signature, primarily a decrease in FEV1/FVC ratios. This ratio reduction is a major feature of chronic airflow obstruction.

Furthermore in emphysema there will be reduced airflow at all lung volumes.

Lung hyperinflation with air trapping will be reflected in an increase in the ratio of RV (residual volume)/TLC (total lung capacity).

Other characteristics include low, flat diaphragms with hyperlucent lung fields (see radiograph above) due to air trapping as well as loss of lung tissue.

Emphysema patients usually do not present with right heart failure or cor pulmonale and tend not to have repeated pulmonary respiratory failure events.
21Goblet Cells
Goblet cells secret mucus, which mainly consists of highly glycosylated proteins (proteins with sugars bound) called mucins in a viscous electrolyte solution. Functions of mucus include protection against both stear stress and chemical damage, particularly in the respiratory tree as well as trapping particular matter and bacteria.

Goblet cells are commonly found in the epithelium of a number of organs, but predominately in the GI and respiratory tract. The "goblet" shape of this cell type is clear in the two images below which are from intestinal sections. Also, the "goblet" shape itself is due to an artifact associated with tissue fixation, as opposed to being a correct morphological description in vivo.
21Goblet Cells in Thin Section

| | |
| --- | --- |
| | |