Critical factors influencing Coronary Blood Flow
Review: critical factors

Heart rate (diastolic filling time)

Coronary perfusion pressure

Coronary vascular tone

Intraluminal obstruction (e.g. plaques)

Most vulnerable region to reduce coronary flow (ischemia): subendocardial region

Rationale: The subendocardium has enhanced metabolic requirements due to:

Relatively increased systolic shortening

Systolic blood flow restriction

Left ventricular subendocardium perfusion -occurs essentially during diastole only

Right ventricular subendocardial flow: occurs during systole

Volume of subendocardial perfusion blood flow-- dependencies

Diastolic pressure

Diastolic duration

Coronary Perfusion Pressure

Definition (approximation): aortic diastolic pressure (AoDP) - left ventricular end-diastolic pressure (LVEDP)

Factors that reduce flow:

Increased coronary vascular tone

Intraluminal obstruction

An increased pressure gradient is favored by a reduced end-diastolic left ventricular pressure (ventricular filling pressure)

Reduced (low) ventricular filling pressures would be expected to have a positive consequence in terms of the myocardium because:

Improved coronary vascular perfusion

Reduced myocardial oxygen demand (MVO2) secondary to decrease ventricular volume and wall tension)

Recall that wall tension and contractility are the primary determinants of myocardial oxygen demand.

Ventricular wall tension is directly proportional to:

Ventricular wall tension is inversely proportional to:

Definition: the difference between supply (autoregulated) - blood supply available with maximal vasodilatation

Coronary Autoregulation-- maintenance of constant blood flow over range of perfusion pressures (50-120 mm Hg) to accommodate a given myocardial oxygen requirement

"Autoregulation" refers to pressure-dependent changes of the level of coronary resistance vessels, principally coronary arterioles (diameter < 150 um) into a lesser extent small coronary arteries

Changes in myocardial oxygen requirements induce changes in the autoregulation state -- principally in response to alter myocardial oxygen tension, PO2, mediated by agents such as adenosine.

Adenosine -mediated changes in vasodilatory state is related inversely to arterial diameter -- greatest changes (dilation) in the smaller vessels

Coronary autoregulation is associated (coupled) with coronary venous PO2 (especially with oxygen tension < 25 mm Hg)

Autoregulation:

Myocardial blood supply requirements (flow) are adjusted by regulation of diastolic vascular resistance in small intramyocardial arterioles

Part of figure 32-1: Reference --Bell, JR, Fox, AC: Pathogenesis those subendocardial ischemia. AM J Med Sci 268:2, 1974, as cited by: Wray Roth, DL, Rothstein, P and Thomas, SJ Anesthesia for Cardiac Surgery, in Clinical Anesthesia, third edition (Barash, PG, Cullen, BF, Stoelting, R.K, eds), Lippincott-Raven Publishers, Philadelphia, pp. 836, 1997

With epicardial arterial obstruction, i.e. more stenosis, flow is maintained by progressive, increasing dilation of the small intramyocardial arterioles -- with attendant reduction in coronary reserve.

Note that as this pathological condition progresses, reduced coronary reserve makes it more likely that an imbalance between myocardial oxygen requirements and supply will occur.

Generally, intraoperative hypotension is more likely to cause myocardial ischemic states than hypertension
Myocardial Oxygen Supply and Blood Oxygen Content
Blood oxygen content = hemoglobin concentration X O2 saturation X 1.34

Since blood volume and oxygenation is typically well maintained during anesthesia, management of oxygen supply with changing oxygen demand depends on management of coronary blood flow.
Electrocardiography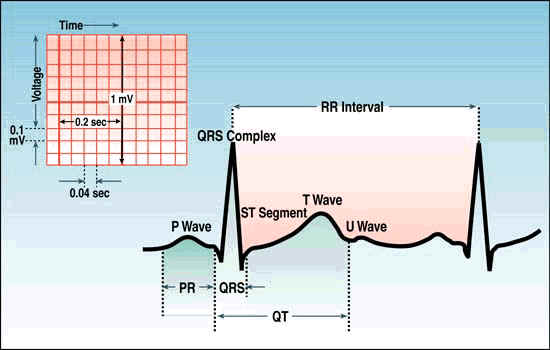 "The "P wave presents atrial activation; the P-R interval is the time from onset of atrial activation to onset of ventricular activation.

The QRS complex represents ventricular activation; the QRS duration is the duration of ventricular activation.

The ST-T wave represents ventricular repolarization. The QT interval is the duration of ventricular activation and recovery.

The U wave probably represents 'afterdepolarizations' of the ventricles"

Courtesy of Frank G.Yanowitz, M.D. and The Alan E. Lindsey ECG Learning Center, used with permission.
Subendocardial ischemia (above) -- exercise induced or during anginal episode

Courtesy of Frank G.Yanowitz, M.D. and The Alan E. Lindsey ECG Learning Center,used with permission.
Heart rate and Blood Pressure Monitoring: rate-pressure product (heart rate x peak systolic pressure) or pressure-rate ratio-- probably NOT sensitive or specific indicators of intraoperative ischemia (lack of correlation with ECG changes; lack of correlation with direct monitoring of ventricular wall motion changes by using transesophageal echocardiography)

Pulmonary Artery Catheter: usefulness in detecting/identifying myocardial ischemia: "Little value" in monitoring myocardial ischemia3.

Value of pulmonary artery catheter data -- identification of systolic +/- diastolic dysfunction by sudden pulmonary arterial or capillary wedge pressure elevations

Cardiac surgical patients (even high-risk) may be safely interoperability managed without routine pulmonary artery catherization -- the pulmonary artery catherization is required during the operative procedure, contemporary placement does not change surgical outcome

Pulmonary artery catheter data provide important information concerning patient's volume status and cardiac output, is not considered a reliable/sensitive index for identification of ischemic episodes
Transesophageal Echocardiography (TEE)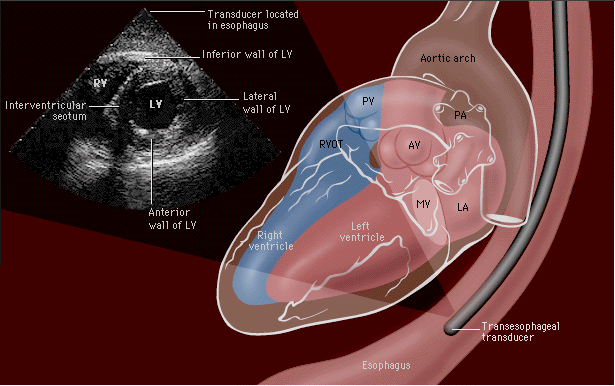 "Transesophageal echocardiography is performed by using a miniature high frequency ultrasound transducer mounted on the tip of a directable gastroscope-like tube about 12 mm in diameter.

Using topical mouth anesthesia and a little sedative, most individuals can swallow the probe without difficulty.

Because the transducer lies in the lower esophagus enclose direct fluid contact with the posterior of the heart, the images are superb since there is no interference by lung tissue"

Yale center for Advanced Instructional Media, Yale Tech University School of Medicine, Medical Editor: C. Carl Jaffe, MD; Site Producer: Patrick J. Lynch used with permission, copyright 2000, Yale University School of Medicine
Summary:

Most common method for monitoring possible myocardial ischemia: ECG-ST analysis

Hemodynamic changes-with impairment of overall left ventricular function

Elevated pulmonary artery occlusion pressure (PAOP): manifestation-large V waves in the PAOP tracing secondary to (a) changed left ventricular compliance, (b) papillary muscle dysfunction causing mitral valve regurgitation

Cardiac output reduction-least sensitive index of ischemia

Transesophageal ultrasound (TEE ultrasound) -- indications

new ventricular wall motion anomaly in a patient with coronary artery disease: a good indication of ischemia

TEE more sensitive than ECG in detecting ischemia; however, the methods may be complementary in that one method will detect ischemia in some circumstances in which the other method will not -- also transesophageal ultrasound may not be routinely available

Ischemia occurring in the post-bypass time frame tend to be more common and more related to negative clinical outcomes such as perioperative myocardial infarction, serious, life-threatening ventricular tachyarrhythmias and death.
Intraoperative Transesophageal Echocardiography (TEE): Utility and Assessment of Myocardial Ischemia
Source: Practice Guidelines for Perioperative Transesophageal Echocardiography, A Report by the American Society of Anesthesiologists and the Society of Cardiovascular Anesthesiologists Task Force on Transesophageal Echocardiography,Anesthesiology 1996: 84:986-1006
1Primary Reference: Ross, AF, Gomez, MN. and Tinker, JH Anesthesia for Adult Cardiac Procedures in Principles and Practice of Anesthesiology (Longnecker, D.E., Tinker, J.H. Morgan, Jr., G. E., eds) Mosby, St. Louis, Mo., pp. 1659-1698, 1998.

2Primary Reference: Shanewise, JS and Hug, Jr., CC, Anesthesia for Adult Cardiac Surgery, in Anesthesia, 5th edition,vol 2, (Miller, R.D, editor; consulting editors, Cucchiara, RF, Miller, Jr.,ED, Reves, JG, Roizen, MF and Savarese, JJ) Churchill Livingston, a Division of Harcourt Brace and Company, Philadelphia, pp. 1753-1799, 2000.

3Primary Reference: Wray Roth, DL, Rothstein, P and Thomas, SJ Anesthesia for Cardiac Surgery, in Clinical Anesthesia, third edition (Barash, PG, Cullen, BF, Stoelting, R.K, eds), Lippincott-Raven Publishers, Philadelphia, pp. 835-865, 1997

4McGough, EK, in: Manual of Complications During Anesthesia, (Gravenstein, N, ed), J. B. Lippincott Co., Philadelphia, pp. 219-223, 1991

5Practice Guidelines for Perioperative Transesophageal Echocardiography, A Report by the American Society of Anesthesiologists and the Society of Cardiovascular Anesthesiologists Task Force on Transesophageal Echocardiography,Anesthesiology 1996: 84:986-1006 (http://www.medana.unibas.ch/eng/educ/Tee.htm)