press

above to begin the lecture
and install current free versions of Quicktime, if needed, to support lecture series audio!
Essential Hypertension

Classification of Arterial Hypertension

Control of Blood Pressure

Antihypertensive Drug Mechanisms

Baroreceptor Reflexes

Antihypertensive Drugs and Anesthesia

Hypertension: Organ Systems Effects:

Cardiovascular Effects

Pathogenesis

Secondary Hypertension

Effects on Cardiac Function

CNS Effects-stroke

Renal Effects

Chronic Hypertension: Perioperative Issues

Pharmacological Management of Hypertension

Diuretics

Sympatholytics

Vasodilators

Calcium Channel Blockers

Angiotensin Converting Enzyme Inhibitors (ACE inhibitors)

Drug Classes
Occurs in patients who have arterial hypertension without a clear, definable cause.

Essential hypertension is also referred to as primary or idiopathic hypertension.
Classification of Arterial Hypertension
I. Systolic hypertension
II. Systolic and Diastolic hypertension
Renal

Renovascular stenosis or renal infarction

Polycystic kidney disease

Acute and chronic glomerulonephritis

Chronic pyelonephritis

Renin-producing tumors

Other severe renal diseases)

Endocrine

Neurogenic

Miscellaneous
Unknown Etiology
Toxemia of pregnancy

Acute intermittant porphyria

Essential Hypertension (> 90% of all cases of hypertension

Arterial pressure is determined by a number of interacting factors
Physiological Factors Influencing Arterial Pressure
Preload & Contractility:

As blood volume returning to the heart increases, preload increases and there is enhanced filling with ventricular dilation.

According to Starling's Law, increased ventricular stretch usually leads to increased contractility.

Increased preload and increased contractility lead to increased stroke volume and ultimately an increase in arterial pressure, all other factors remaining equal.

Some antihypertensive drugs decrease preload.
Heart rate: Since the product of heart rate and stroke volume equals cardiac output, an increase in heart rate will increase arterial blood pressure, all other factors remaining equal.
Heart Rate X Stroke Volume = Cardiac Output

Cardiac Output X Peripheral Resistance = Arterial Pressure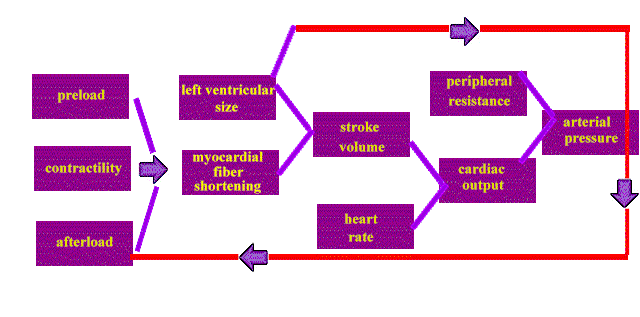 | | |
| --- | --- |
| | |
Antihypertensive Drugs and Anesthesia
There is probably excessive concern about interaction potential between anesthetics and antihypertensive drugs.

Areas of concern for administration of anesthetic to patients treated with antihypertensive medications:

Reduced sympathetic nervous system activity--manifestations:

Orthostatic hypotension

Excessive systemic blood-pressure responses (decreases) to:

acute blood loss

body position changes

decreased venous return cause by positive-pressure ventilation

Reduced sensitivity to indirect-acting sympathomimetic agents (cause by antihypertensive drugs that deplete norepinephrine from nerve terminals

Possible enhanced response to catecholamines and direct-acting sympathomimetics following sympathetic nervous system blockade (reduced alpha-adrenergic receptor tone with loss of tonic stimulation)

Altered physiological response to sympathomimetic agents

Sedation

Maintenance of antihypertensive drug treatment during perioperative time frame:

Fewer systemic blood-pressure and heart rate fluctuations during anesthesia

Decreased likelihood of cardiac dysrhythmias

Conclusion:

Previously effective antihypertensive drug therapy should be continued during the perioperative period.

The pharmacology of the particular antihypertensive drug should be considered in the development of the anesthesia plan.
Stoelting, R.K., "Antihypertensive Drugs", in Pharmacology and Physiology in Anesthetic Practice, Lippincott-Raven Publishers, 1999, 302-312.